Articles
by Ira Blumenthal
Ira Blumenthal has written hundreds of articles on various business topics...from "branding" to "strategic alliances." From "change management" to "success," and more... Four article examples follow for your review:
Strength In Numbers (With Strategic Partnerships, It's Business As UNusual)
Marketing Through The Millennium (To Survive, Companies Must Focus On New Ways Of Doing Business)
(Winning Workforce Ideas...Satisfy Your Employees And They Will Satisfy Your Customers)
Young at Heart (Everyone Has To Get Older, But That Doesn't Mean You Have To Be Old)
Books
by Ira Blumenthal

Ira is also an author. As well as contributing chapters in a number of books by other author-editors, Ira's first book, Ready, Blame, Fire! (Myths and Misses in Marketing) is widely read and quoted. Ira will be releasing two new books in mid-2006.
Click on the cover of Ready, Blame, Fire! below for both a book summary and outline of this dynamic book written by Ira Blumenthal.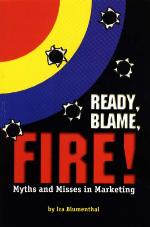 "Ready, Blame, Fire! provides the spark that fuels ideas and insight into unleashed energy and enthusiasm. Blumenthal is a profound thinker. His observations and experiences cause the reader to propel into action."
~Debbi Fields, Founder and Former Chairperson, Mrs. Fields Cookies